ICC Cricket World Cup 2023 will soon take place in India from October 5 to November 19, and here are the full fixtures and venues of the biggest competition this year of the sport.
ICC Cricket World Cup 2023
The upcoming International Cricket Council (ICC) World Cup hosted by India will kick off on October 5, with the final on November 19.
The tournament's first stage will be a round-robin format where all teams will play each other once, resulting in 45 matches. The top four teams at the end of the round-robin stage will qualify for the semifinals.
The teams finishing first and fourth will play the first semifinal on November 15 in Mumbai, while the second and third teams will meet in the second semifinal on November 16 in Kolkata.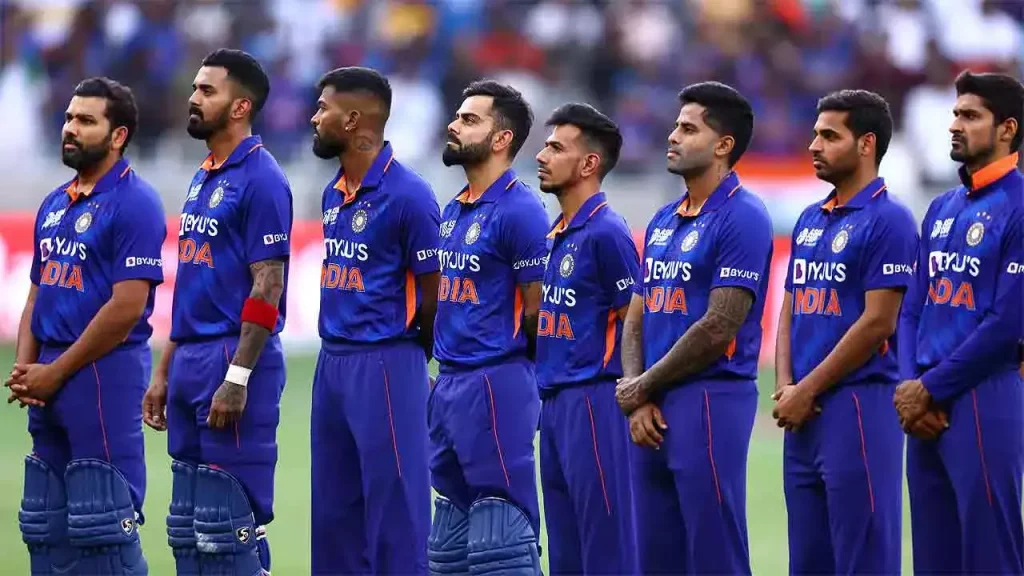 October 5
England vs New Zealand 2pm (08:30 GMT) – Narendra Modi Stadium, Ahmedabad
October 6
Pakistan vs The Netherlands 2pm (08:30 GMT) – Rajiv Gandhi International Stadium, Hyderabad
October 7
Bangladesh vs Afghanistan 10:30am (05:00 GMT) – HPCA Stadium, Dharamsala
South Africa vs Sri Lanka 2pm (08:30 GMT) – Arun Jaitley Stadium, New Delhi
October 8
India vs Australia 2pm (08:30 GMT) – M A Chidambaram Stadium, Chennai
October 9
New Zealand vs The Netherlands 2pm (08:30 GMT) – Rajiv Gandhi International Stadium, Hyderabad
October 10
England vs Bangladesh 10:30am (05:00 GMT) – HPCA Stadium, Dharamsala
Pakistan vs Sri Lanka 2pm (08:30 GMT) – Rajiv Gandhi International Stadium, Hyderabad
October 11
India vs Afghanistan 2pm (08:30 GMT) – Arun Jaitley Stadium, New Delhi
October 12
Australia vs South Africa 2pm (08:30 GMT) – BRSABV Ekana Cricket Stadium, Lucknow
October 13
New Zealand vs Bangladesh 2pm (08:30 GMT) – M A Chidambaram Stadium, Chennai
October 14
India vs Pakistan 2pm (08:30 GMT) – Narendra Modi Stadium, Ahmedabad
October 15
England vs Afghanistan 2pm (08:30 GMT) – Arun Jaitley Stadium, Delhi
October 16
Australia vs Sri Lanka 2pm (08:30 GMT) – BRSABV Ekana Cricket Stadium, Lucknow
October 17
South Africa vs The Netherlands 2pm (08:30 GMT) – HPCA Stadium, Dharamsala
October 18
New Zealand vs Afghanistan 2pm (08:30 GMT) – M A Chidambaram Stadium, Chennai
October 19
India vs Bangladesh 2pm (08:30 GMT) – Maharashtra Cricket Association Stadium, Pune
October 20
Australia vs Pakistan 2pm (08:30 GMT) – M Chinnaswamy Stadium, Bengaluru
October 21
The Netherlands vs Sri Lanka 10:30am (05:00 GMT) – BRSABV Ekana Cricket Stadium, Lucknow
England vs South Africa 2pm (08:30 GMT) – Wankhede Stadium, Mumbai
October 22
India vs New Zealand 2pm (08:30 GMT) – HPCA Stadium, Dharamsala
October 23
Pakistan vs Afghanistan 2pm (08:30 GMT) – M A Chidambaram Stadium, Chennai
October 24
South Africa vs Bangladesh 2pm (08:30 GMT) – Wankhede Stadium, Mumbai
October 25
Australia vs The Netherlands 2pm (08:30 GMT) – Arun Jaitley Stadium, New Delhi
October 26
England vs Sri Lanka 2pm (08:30 GMT) – M Chinnaswamy Stadium, Bengaluru
October 27
Pakistan vs South Africa 2pm (08:30 GMT) – M A Chidambaram Stadium, Chennai
October 28
Australia vs New Zealand 10:30am (05:00 GMT) – HPCA Stadium, Dharamsala
The Netherlands vs Bangladesh 2pm (08:30 GMT) – Eden Gardens, Kolkata
October 29
India vs England 2pm (08:30 GMT) – BRSABV Ekana Cricket Stadium, Lucknow
October 30
Afghanistan vs Sri Lanka 2pm (08:30 GMT) – Maharashtra Cricket Association Stadium, Pune
October 31
Pakistan vs Bangladesh 2pm (08:30 GMT) – Eden Gardens, Kolkata
November 1
New Zealand vs South Africa 2pm (08:30 GMT) – Maharashtra Cricket Association Stadium, Pune
November 2
India vs Sri Lanka 2pm (08:30 GMT) – Wankhede Stadium, Mumbai
November 3
The Netherlands vs Afghanistan 2pm (08:30 GMT) – BRSABV Ekana Cricket Stadium, Lucknow
November 4
New Zealand vs Pakistan 10:30am (05:00 GMT) – M Chinnaswamy Stadium, Bengaluru
England vs Australia 2pm (08:30 GMT) – Narendra Modi Stadium, Ahmedabad
November 5
India vs South Africa 2pm (08:30 GMT) – Eden Gardens, Kolkata
November 6
Bangladesh vs Sri Lanka 2pm (08:30 GMT) – Arun Jaitley Stadium, New Delhi
November 7
Australia vs Afghanistan 2pm (08:30 GMT) – Wankhede Stadium, Mumbai
November 8
England vs The Netherlands 2pm (08:30 GMT) – Maharashtra Cricket Association Stadium, Pune
November 9
New Zealand vs Sri Lanka 2pm (08:30 GMT) – M Chinnaswamy Stadium, Bengaluru
November 10
South Africa vs Afghanistan 2pm (08:30 GMT) – Narendra Modi Stadium, Ahmedabad
November 11
Australia vs Bangladesh 10:30am (05:00 GMT) – Maharashtra Cricket Association Stadium, Pune
England vs Pakistan 2pm (08:30 GMT) – Eden Gardens, Kolkata
November 12
India vs The Netherlands 2pm (08:30 GMT) – M Chinnaswamy Stadium, Bengaluru
November 15
Semifinal 1: First place vs fourth place, 2pm (08:30 GMT) – Wankhede Stadium, Mumbai
November 16
Semifinal 2: Second place vs third place, 2pm (08:30 GMT) – Eden Gardens, Kolkata
November 19
Final: Winner of Semifinal 1 vs winner of Semifinal 2, 2pm (8:30 GMT) – Narendra Modi Stadium, Ahmedabad