Ahead of the 2023 US Open, let's look at the top six women's contenders for the title.
Iga Swiatek, Aryna Sabalenka, Coco Gauff, and Jessica Pegula look vital for the elite annual tournament at The USTA Billie Jean King National Tennis Center this year.
Swiatek will be the defending champion in New York as she looks to win a fifth Grand Slam career title.
Here are the big six for this year's final Grand Slam of the tennis season:
IGA SWIATEK
Iga Swiatek is ranked the world No. 1 in women's singles by the Women's Tennis Association. She is a four-time major singles champion, winning the French Open in 2020, 2022, and 2023 and the US Open in 2022.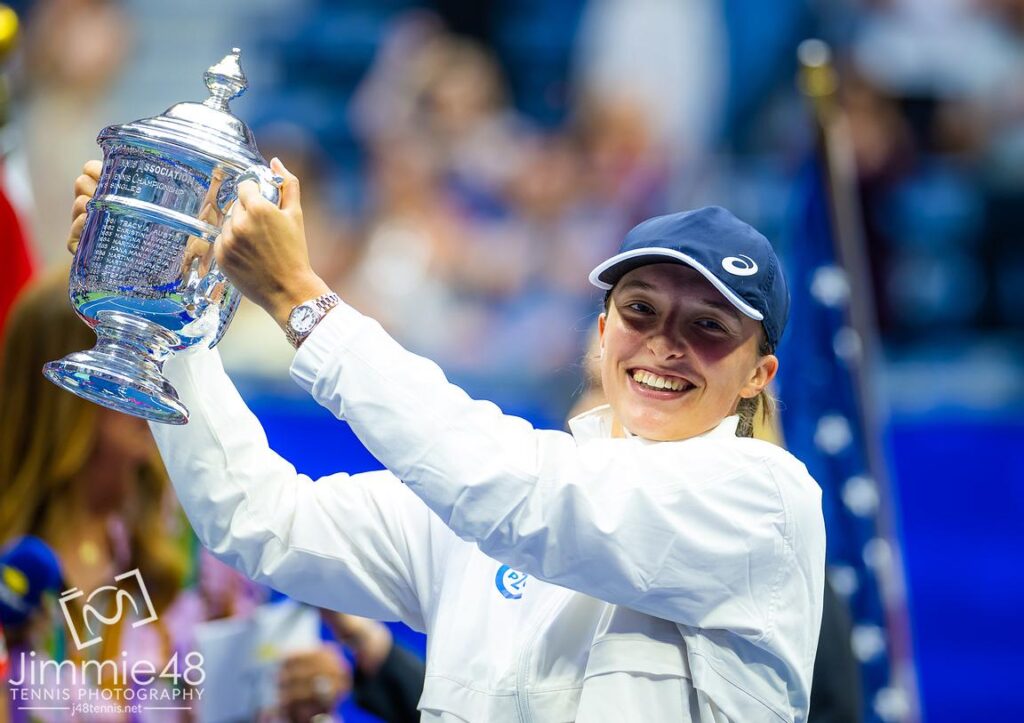 However, Swiatek comes into the tournament after defeats to Jessica Pegula and Coco Gauff. Swiatek needs to better Aryna Sabalenka's result to stay top of the pile.
Will Swiatek come out on top in New York?
ARYNA SABALENKA
The Belarusian professional tennis player has been ranked as high as world No. 2 in singles and world No. 1 in doubles by the Women's Tennis Association.
Aryna has had a great year, but it could have been even better as Karolina Muchova defeated her at the French Open, then another defeat at the same stage by Ons Jabeur at Wimbledon.
It will be a perfect vengeance if Aryna will be good enough to finally overtake Swiatek at the top in New York this time.
JESSICA PEGULA
Jessica has career-high WTA rankings in singles of world No. 3, achieved on October 24, 2022, and in doubles of world No. 2, completed on May 22, 2023.
The 1994-born American ace won the title in Montreal, including a second victory over Swiatek this year. Jessica Pegula enters the US Open as a leading contender for the title.
ELENA RYBAKINA
Russian-born Elena is world No. 3 by the Women's Tennis Association. She is also the first Kazakhstani to be ranked in the world's top 10 and is the current No. 1 player in women's singles from Kazakhstan. That speaks a lot for a young talent who is 24 years old.
Last time at Cincinnati, some minor injuries forced Elena to withdraw in her second match. Provided she is a good fit, Elena will be a serious contender for the title.
COCO GAUFF
Currently World No. 4 in singles by the Women's Tennis Association, Coco Gauff reached on October 24, 2022. In the same year, she was ranked world No. 1 in doubles, achieved on August 15, 2022.
In form, the American ace Coco Gauff looks better than anyone on the WTA Tour ahead of the US Open.
With titles in Washington DC and Cincinnati, the fans are excited about the scenario Gauff could contend at her home Slam.
ONS JABEUR
The 28-year-old ace is one to watch this Summer.
Ons is Tunisian number one and the highest-ranked African and Arab tennis player in WTA and ATP rankings history.
Unfortunately for Jabeur, she has yet to win in all three of the last five major finals that she competed. Last year in the Wimbledon 2022 final, she was lifted by messages of support from the likes of Andy Roddick – "I was crying, happy crying".
Could this be her fourth time lucky?