US Open 2023: Carlos Alcaraz is into the fourth round after overcoming Dan Evans 6-2 6-3 4-6 6-3 at New York.
The win confirms the Spanish ace a spot in the fourth round as he continues the journey for back-to-back titles after clinching the crown last year.
Alcaraz beat Evans – Match Highlights
A very determined Evans did his best, but the Spaniard proved superior.
Evans could hardly get near him at the beginning of the match as the 20-year-old earned a double-break in the opening set to take a 4-0 lead.
The Brit held in his third service game to get on the board, but by that stage, the set was already firmly in Alcaraz's control.
Although he conceded the opener, Evans made Alcaraz work harder towards the end of the set, which would be a sign of things to come after a slow start out of the blocks from the 33-year-old.
Evans started the second set brilliantly, holding his opening serve before breaking the reigning champion for a two-game lead.
But Alcaraz showed the American spectators the class of a reigning champion as he hit back instantly with a double break to regain control.
The pair pulled a tug of war before Alcaraz wrapped up the second and targeted a speedy victory.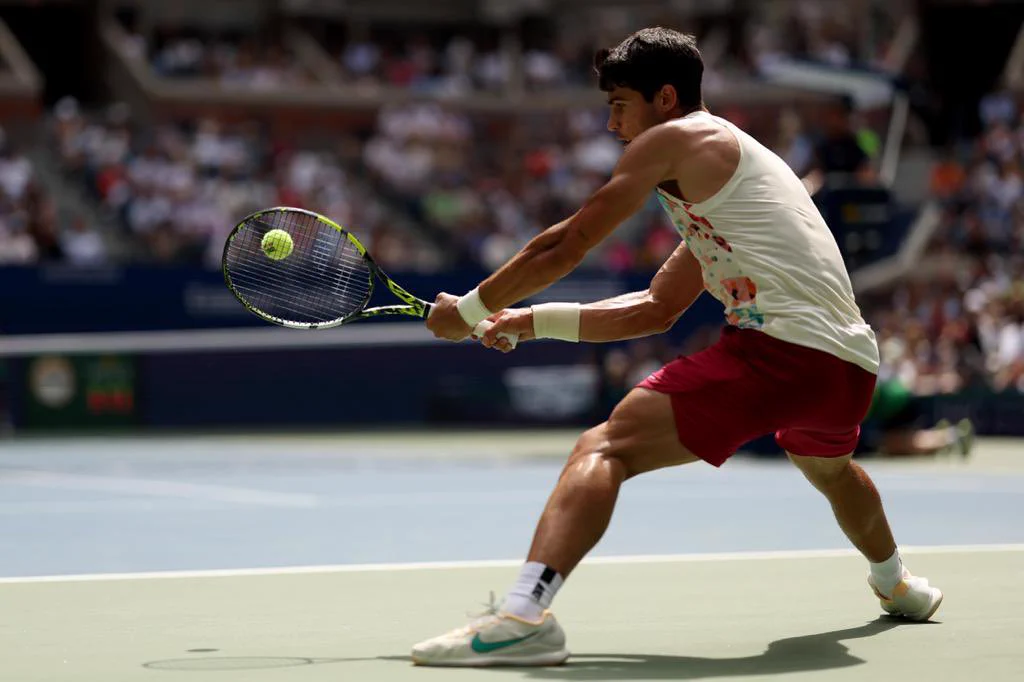 However, things got complicated when Evans managed to clinch the third set – the first player to manage this against Alcaraz in New York this year.
At 3-3, Evans threw his racquet in anger when he missed his first break point, frustrated that he may have squandered his only chance to get back into the match, but he landed a second break point in a significant turning point in the set.
The crowd cheered when Evans won the third set and forced a fourth.
After some spirited tennis from the Brit, Alcaraz got the decisive break to go 4-2 ahead in set four as he edged towards victory, which he saw out with composure to conclude a fantastic match.
Alcaraz to emulate Federer
Alcaraz could become the first player to retain the US Open since Roger Federer won the tournament yearly from 2004 to 2008.
But ahead of the imminent record, up next for Alcaraz is Matteo Arnaldi, who upset Cameron Norrie in the third round.