Coco Gauff claimed her fourth WTA title after defeating Maria Sakkari in DC Open final.
The 19-year-old tennis sensation made a stunning comeback after the disappointment of a first-round exit at Wimbledon last month. She also ended up as the runner-up at the 2022 French Open. It's fair to say she came back in style.
What happened
The women's final briefly was interrupted twice when spectators were attended to on an afternoon with the temperature at 90 degrees Fahrenheit (32 Celsius) and 55% humidity.
Battling at the end of each set, Gauff defeated Maria Sakkari 6-2, 6-3 in the Washington final for the fourth WTA Tour singles title of her career.
Gauff made the record book as the youngest women's champion of the hard-court tournament in the nation's capital and the first player since Caroline Wozniacki in 2009 to win four WTA tournaments as a teenager.
She didn't drop a set and ceded 19 total games across four matches.
In addition to the No. 9-ranked Sakkari, Gauff eliminated defending champion Liudmila Samsonova and Tokyo Olympics gold medalist Belinda Bencic.
This was her second title of 2023, alongside one in Auckland, New Zealand, in January.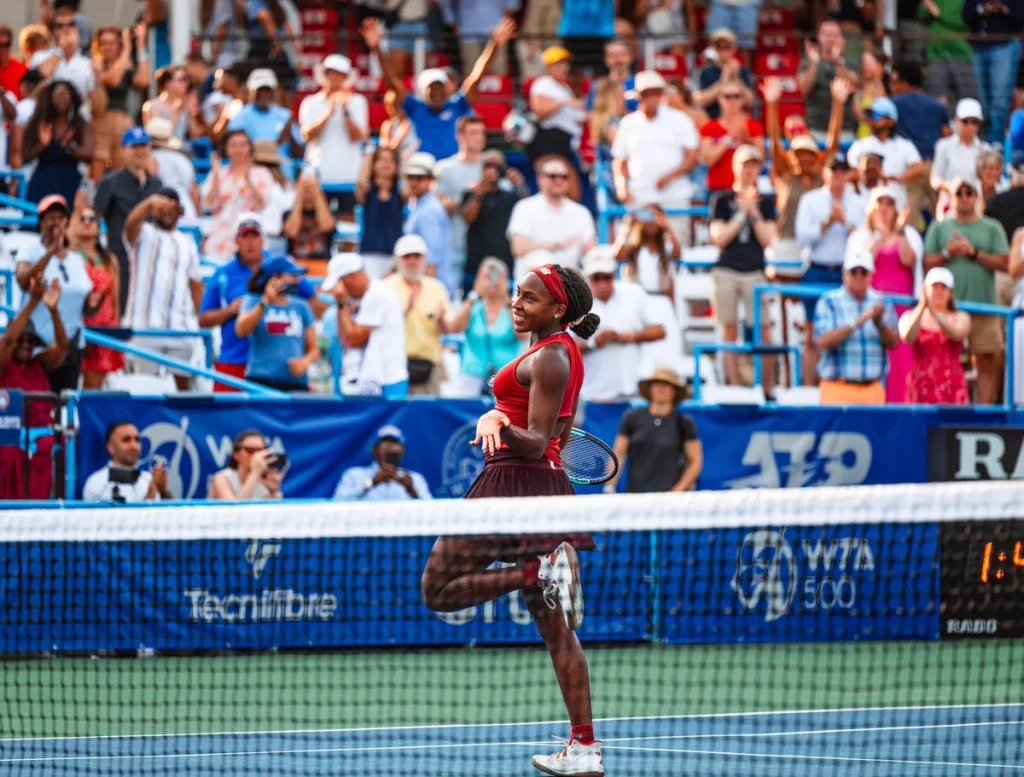 Sakkari, a 28-year-old from Greece who reached two Grand Slam semifinals in 2021, claimed that her opponent had improved her forehand, which was long considered a weak point.
"We all know that her forehand was always her weaker shot. I feel like now she's improving that. She's making more balls. She's working on that," said "Mentally she looks a lot more mature. She knows what she's doing on the court."
Gauff thanks her mom & dad after winning Washington:
"Most importantly, thank you to my parents. My mom & dad are the reason why I play tennis. The reason why I kinda, somewhat have a good personality"