ICC Men's World Cup 2023: New Zealand beat defending Champions England as they forced a pursuit of a target of 283 came with 82 balls to spare.
The defending champions have been battered, comprehensively, wearing what might end up being one of the most emphatic beatings of the tournament.
An unbeaten 152 from Devon Conway and an unbeaten 123 from Rachin Ravindra – ODI centuries number five and one, respectively, played pivotal parts in NZ's victory.
The highlights from the tournament's first game belong to New Zealand, as first ever time, two World Cup debutants both scored hundreds.
CC Cricket World Cup 2023: Full Fixtures
ICC Men's World Cup 2023- Jaw-dropping prize money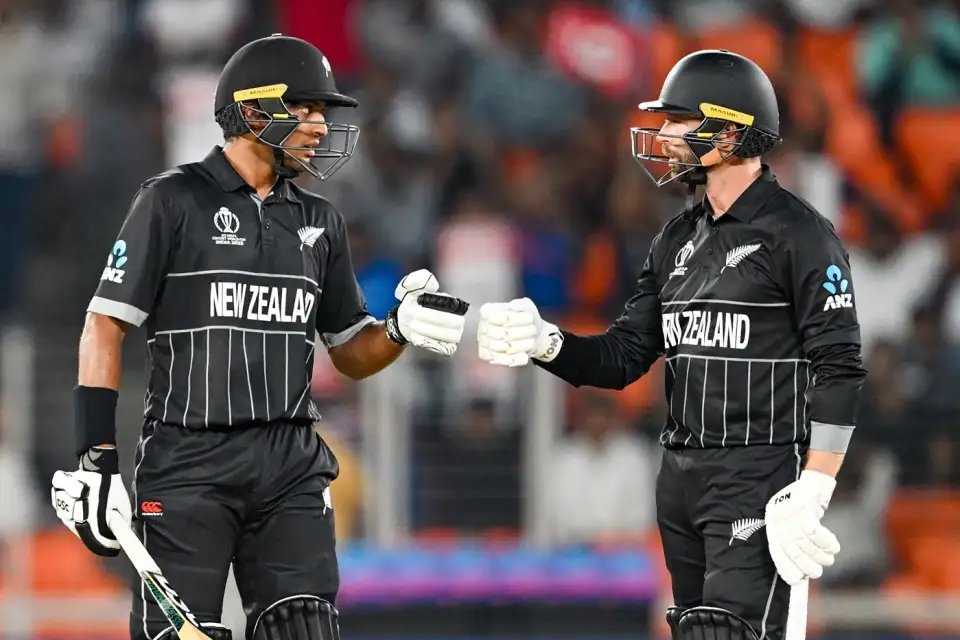 ICC Men's World Cup 2023 – New Zealand's highlights
36.2 Overs were needed for New Zealand to chase down the target of 283 against England, the fastest successful 250-plus target chase in the men's ODI World Cup. The previous fastest was by India, who chased down 260 in 36.5 overs against Ireland in 2015.
82 Balls remaining when New Zealand reached the target, the joint-fourth biggest win in balls remaining in men's ODIs while chasing a target of 250-plus runs. The biggest such win was by South Africa earlier this year against West Indies when they chased down 261 with 123 balls to spare.
18-3 New Zealand's win-loss record in their first matches across the ODI and T20 World Cups. Only once did New Zealand lose their first match of a T20 World Cup (in 2021) and twice in the ODI World Cup – 1983 and 2003.
273* Partnership between Devon Conway and Rachin Ravindra for the second wicket, the fourth-highest stand in the men's ODI World Cup. It is also the highest partnership for New Zealand at the World Cup, surpassing 168 between Lee Germon and Chris Harris for the fourth wicket against Australia in 1996.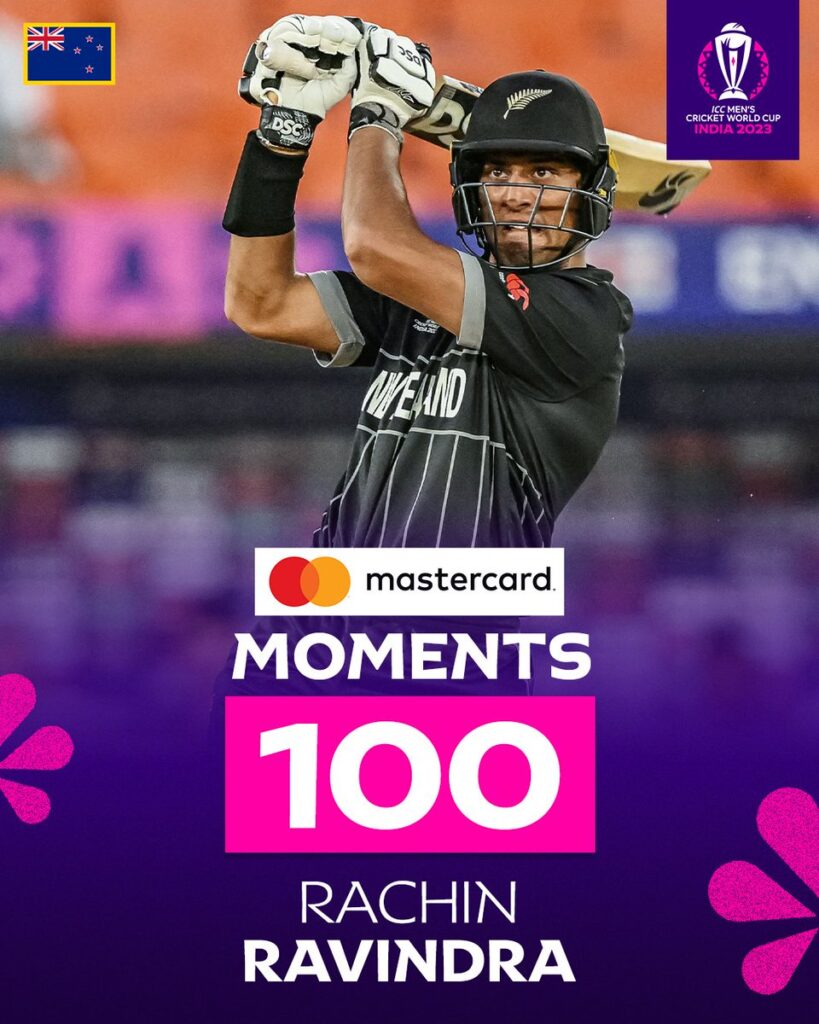 152* Conway's score, the third highest for New Zealand at the men's ODI World Cup, behind Martin Guptill's 237 not out against West Indies in 2015 and Glenn Turner's 171 not out against East Africa in 1975. Conway is also the first batter to score 150-plus runs against England in the men's ODI World Cup.
23y 321d Ravindra's age on Thursday, making him the youngest New Zealand batter to score a century at the men's ODI World Cup. Nathan Astle was the previous youngest at 24 years and 152 days old when he made 101, also against England at Ahmedabad in 1996.
Ravindra is also the third-youngest World Cup debutant to score a century, behind Virat Kohli (22y 106d versus Bangladesh in 2011) and Andy Flower (23y 301d against Sri Lanka in 1992).
1 Conway and Ravindra became the first New Zealand pair to score centuries in the same men's World Cup match. They also recorded the first-ever instance of two World Cup debutants scoring hundreds in the same game.
3 Batters with 150-plus scores on men's World Cup debut before Conway. Gary Kirsten's 188 against UAE in 1996 is the highest, followed by Craig Wishart's 172 not out against Namibia in 2003. Turner's 171 not out in 1975 remains the highest score on World Cup debut for New Zealand.
88 Balls Guptill needed to score his century against Bangladesh in 2015, the fastest for New Zealand at the men's ODI World Cup until the game against England in Ahmedabad. Conway broke Guptill's record with an 83-ball ton before Ravindra eclipsed it with a century off 82 balls.
0 Boundaries conceded by Mitchell Santner in his ten overs. He is the first bowler to complete his quota of ten overs in an ODI against England without conceding a boundary since Kuldeep Yadav did so at Trent Bridge in 2018.
22 Innings needed for Conway to complete 1000 runs in ODIs, the fastest for New Zealand. The previous fastest was Turner, who needed 24 innings to reach the milestone.
Conway is also the fastest New Zealand batter to five hundred in ODIs – Kane Williamson was the previous quickest, needing 56 innings. Only Quinton de Kock (19), Imam-ul-Haq (19), and Dawid Malan (21) took fewer innings than Conway for five hundreds in men's ODIs.
11 All the eleven batters of England reached double digits against New Zealand. It was the first-ever instance of 11 batters scoring 10-plus runs for a team in an ODI game across men's and women's cricket.