Cricket World Cup 2023: Quinton De Kock recorded a century as South Africa beat Australia to currently top the table, while India have won two back-to-back games but are still not on top.
Cricket World Cup 2023 – Current table
CC Cricket World Cup 2023: Full Fixtures
ICC Men's World Cup 2023- Jaw-dropping prize money
ICC Men's World Cup 2023 – New Zealand beat England
Cricket World Cup 2023: Quinton De Kock century beat Australia
Cricket World Cup 2023: Rohit Sharma smashes six-hitting record as India beat Afghanistan
Virat Kohli: "It's a bit awkward for me front of pavilion named after me"
ICC World Cup 2023 Standings
South Africa: 4 pts
New Zealand: 4 pts
India: 4 pts
Pakistan: 4 pts
England: 4 pts
Bangladesh: 2 pts
Sri Lanka: 2 pts
Netherlands: 0 pts
Australia: 0 pts
Afghanistan: 0 pts
The first four are South Africa, New Zealand, India and Pakistan. Meanwhile, Bangladesh and Sri Lanka are sitting 5th and 6th, respectively, with two wins, and the bottom three are Netherlands, Australia, and Afghanistan, with two defeats each so far.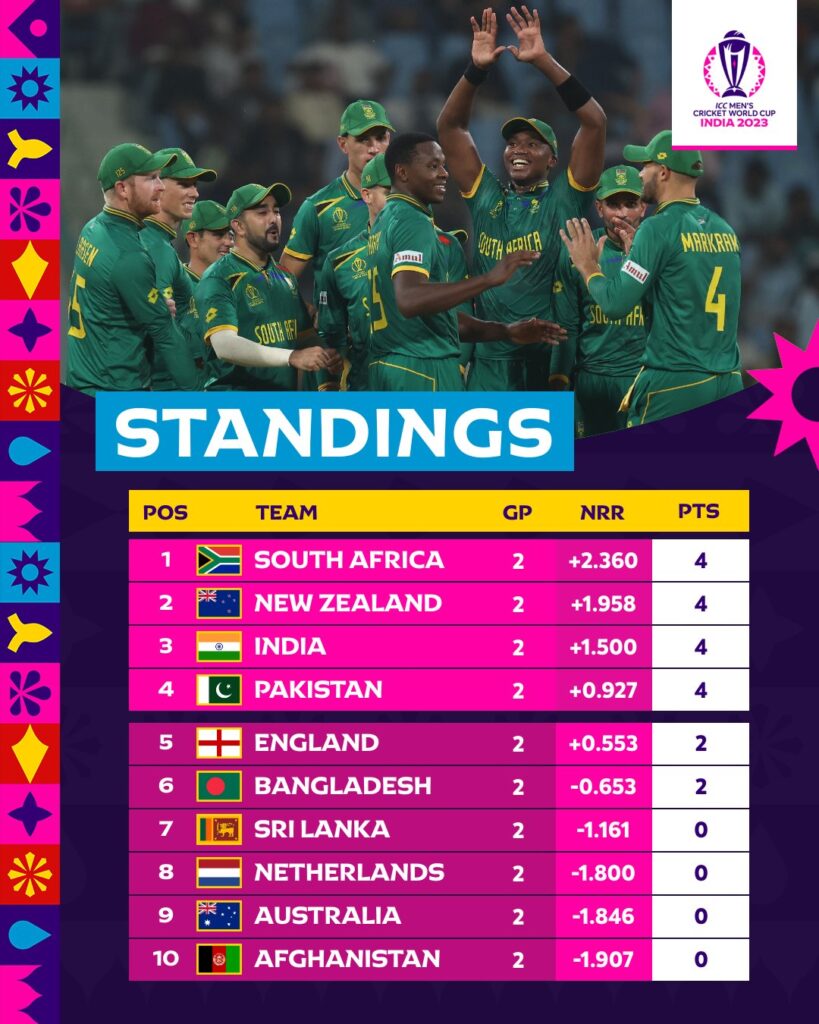 Why India are not atop points table despite winning both first matches
India aren't at the top of the ICC Cricket World Cup 2023 points table despite not having lost a match yet – similar to Pakistan and New Zealand.
Rohit Sharma scored multiple records to help the host beat Afghanistan on Wednesday at Delhi's Arun Jaitley Stadium, but it was not enough to sit first in the table. India also has a net run rate of + 1.500, which explains why they are sitting third (India's NRR: 1500, SA's NRR: 2360, NZ's NRR: 1958).
New Zealand, also unbeaten, is currently at the top. They have four points from two games, the same as India, but the Black Caps are a spot above because of their superior net run rate of +1.958.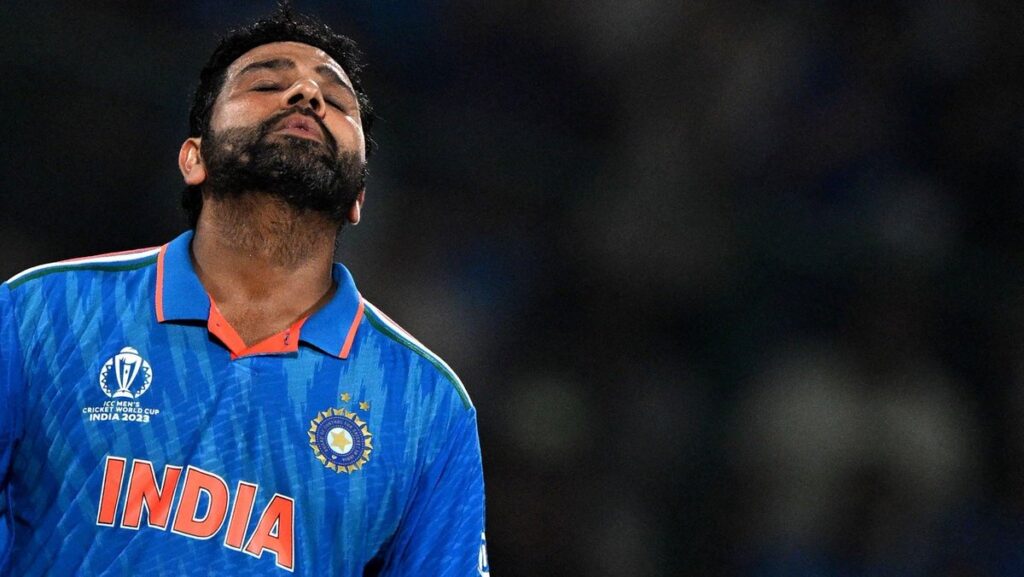 Pakistan, another team that has yet to lose a game, are in third place. They also have four points and a lower +0.927 net run rate.
South Africa, next on the table, completed the top four teams in the tournament. The South Africans secured a massive win in their opening fixture against Sri Lanka and beat Australia earlier on Thursday.
Australia lost to India by six wickets in their campaign opener, disappointingly sitting 9th.
Afghanistan, meanwhile, are at the bottom of the points table, having suffered two straight losses. Both defeats were significant: they lost to Bangladesh by six and eight wickets to India.
Afghanistan's net run rate is -1.907, with zero points after two matches.
The Hashmatullah Shahidi-led team put up 272 runs for 8 wickets in 50 overs after opting to bat at against India. Indian skipper Sharma anchored his side's chase with an extraordinary performance as he broke Sachin Tendulkar's world record of most centuries in a World Cup.
Sharma now has seven World Cup hundreds, one more than his legendary compatriot.
The match also saw star batsman Virat Kohli remain unbeaten on 56 off 55 balls, his second consecutive half-century in the World Cup.
India will next take on Pakistan on Saturday at Ahmedabad's Narendra Modi Stadium in one of the most awaited contests in the tournament.