ODI World Cup: Epic Maxwell puts Australia in semi-finals as England hang to the slim hope for a spot.
CC Cricket World Cup 2023: Full Fixtures
ICC Men's World Cup 2023- Jaw-dropping prize money
ICC Men's World Cup 2023 – New Zealand beat England
Cricket World Cup 2023: Quinton De Kock century beat Australia
Cricket World Cup 2023: Rohit Sharma smashes six-hitting record as India beat Afghanistan
Virat Kohli: "It's a bit awkward for me in front of the pavilion named after me"
Cricket World Cup 2023 – Current table situation
Cricket World Cup 2023: New Zealand beat Afghanistan to keep perfect record
Cricket World Cup 2023: Another world record was reached during India's match against New Zealand
ICC World Cup 2023: England seamer Reece Topley ruled out with a broken finger
Maxwell 201* brings Australian to the semi.
Australia 293 for 7 (Maxwell 201*) beat Afghanistan 291 for 5 (Ibrahim 129*, Rashid 35*) by three wickets
Australia were 91 for 7, chasing 292, but it was before Maxwell pulled his magic out of his pocket. The all-rounder superstar smashed his way to a double-century, and not only did they win the game, but they booked their place in the World Cup semi-finals.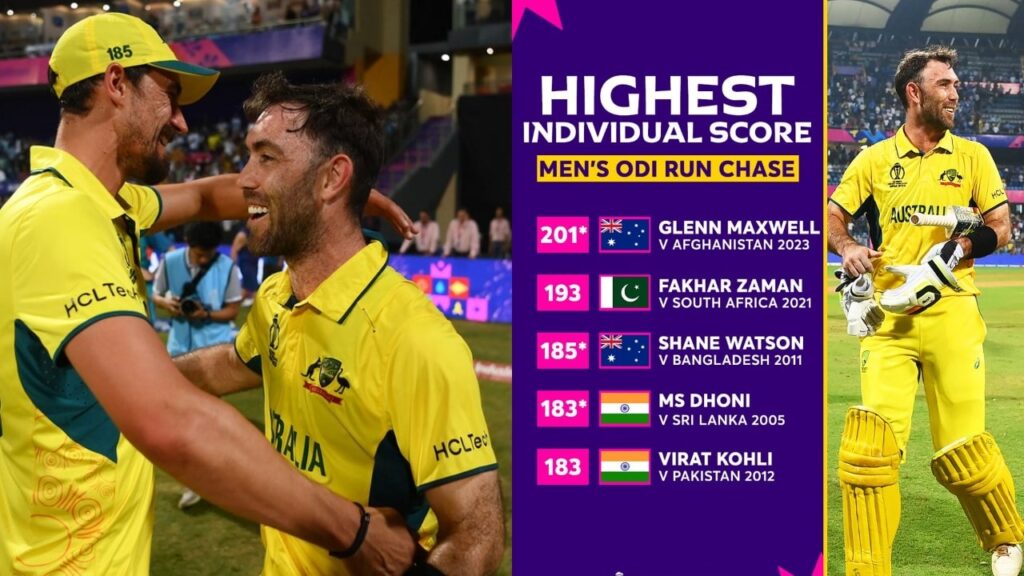 After Ibrahim Zadran became Afghanistan's first-ever centurion in World Cups, Naveen-ul-Haq and Azmatullah Omarzai shredded Australia's top order as they threatened to script a famous win at the Wankhede. But Maxwell intervened with a sensational 201 not out, 179 of which were scored in an unbroken 202-run partnership with his captain Pat Cummins, to flip the script. The result confirmed Australia's place in the final four, along with hosts India and South Africa, and left Afghanistan heartbroken.
Maxwell stands tallest in adversity to deliver Australia their knock-out blow.
Glenn Maxwell was down. He limped through for his 147th run – the 35th single of his innings – and crumpled onto the Wankhede turf, clutching his hamstring, his face clenched in pain. As his muscles cramped and spasmed, Maxwell jerked on the ground, his movements involuntary as his lower body took on a mind of his own.
While trying to calm it, Australia's physiotherapist Nick Jones explained to Maxwell that if he walked off, it would be difficult to get back on. In the distance, Adam Zampa came down the change-room stairs, ready to take Maxwell's place. And that was when he decided that was not going to happen.
Maxwell was down, but he was not out, and he certainly wasn't going to choose to be.
Cummins hails 'the greatest ODI innings that's ever happened'
Asked how he was feeling after his exertions, Glenn Maxwell said at the Player-of-the-Match presentation:
"Horrific! I feel shocking! It was obviously quite hot when we're fielding today, and I haven't really done a whole lot of high-intensity exercise in the heat, and it certainly got a hold of me today.
"We came out with a plan to stay at the same end for a little bit until I could get some movement back, and luckily enough I was able to stick it out to the end."
What England need to earn a spot
Played 7; Points 2; NRR -1.504
Remaining matches: vs Netherlands and Pakistan.
The defending champions have had a campaign of nightmare, and they can definitely use some help to earn a place for Champions Trophy.
Even if they win their last two matches, they will need help from other teams, as Sri Lanka and Bangladesh could also join them on six points if they win their latest games. England's NRR currently needs improvement (-1.504), so they will not only need wins but wins by significant margins.
If England lose to Netherlands, then they will have to beat Pakistan and hope that Sri Lanka and Bangladesh lose their last games and stay on four points. Then it will come down to NRR among England, Sri Lanka and Bangladesh for one spot.