The Men's 2023 ODI World Cup takes place in India and runs from October 5 until November 19
Cricket World Cup 2023: De Kock overtakes Kohli as leading CWC run-scorer as the leading run-scorer at the ongoing tournament in India.
India's Kohli and Rohit had been the two leading scorers in the tournament before Tuesday's game, as India is currently on top of the standings. However, after yesterday, the title now belongs to De Kock.
De Kock overtakes Kohli as the leading CWC run-scorer
The South African opener hit an inspired 174 against Bangladesh in Mumbai on Tuesday to become the leading run-scorer in the tournament after five games.
De Kock's stunning effort at the Wankhede Stadium was his third century in five tournament games, following his 100 against Sri Lanka and 109 against Australia earlier in the month.
CC Cricket World Cup 2023: Full Fixtures
ICC Men's World Cup 2023- Jaw-dropping prize money
ICC Men's World Cup 2023 – New Zealand beat England
Cricket World Cup 2023: Quinton De Kock century beat Australia
Cricket World Cup 2023: Rohit Sharma smashes six-hitting record as India beat Afghanistan
Virat Kohli: "It's a bit awkward for me in front of the pavilion named after me"
Cricket World Cup 2023 – Current table situation
Cricket World Cup 2023: New Zealand beat Afghanistan to keep perfect record
Cricket World Cup 2023: Another world record reached during India's match against New Zealand
ICC World Cup 2023: England seamer Reece Topley ruled out with a broken finger
The opener's brilliant form means he has 407 runs to his name at the tournament, with the closest challengers being Kohli with 354, Rohit Sharma's 311, and Mohammad Rizwan's 302.
Big-hitting South African Heinrich Klaasen is the team's second-highest scorer with 288 runs at a strike rate of 150.78 – the fastest scoring rate of any specialist batter at the tournament.
De Kock spoke of his record.
De Kock's performance was good, his post-match interview was in fact, brilliant.
After his 174, De Kock was keen to credit his team rather than focus on his efforts.
"I think to be honest I'm a bit more tired than satisfied, but it was a great day out for the guys, I think we all played very well and everyone played their part.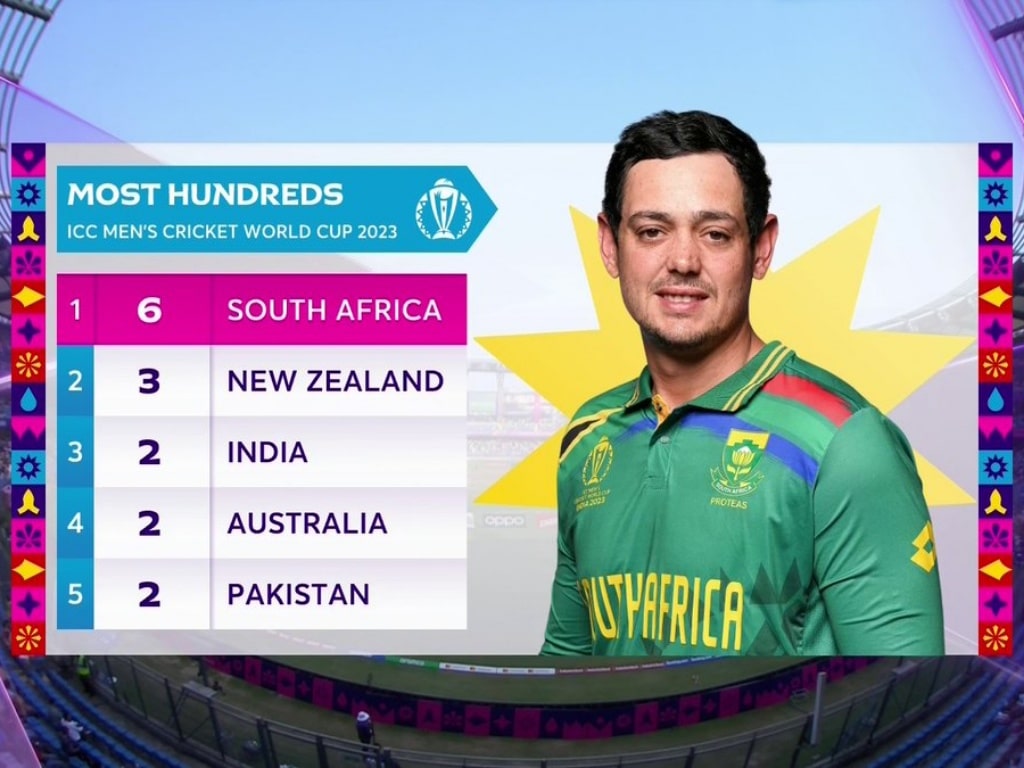 "I was a little bit nervous this morning. Polly came in and gave us a speech and I'm normally not one of these guys who gets nervous, but for some reason I was. But it was a great day, I had a bit of fun.
"Klaasen has been absolutely amazing. I don't know what he's doing, but I need some of that juice that he's having. He's just been special, not just for us but everywhere around the world he's been really special this year. He's taking it by storm and I'm very happy for him."