Cricket World Cup 2023: South Africa continued to stun the fans with a dominant show against Bangladesh that produced impressive stats.
Quinton de Kock's brilliant century inspiring a 149-run win is among the list of stunning stats that we provide below after South African's victory.
CC Cricket World Cup 2023: Full Fixtures
ICC Men's World Cup 2023- Jaw-dropping prize money
ICC Men's World Cup 2023 – New Zealand beat England
Cricket World Cup 2023: Quinton De Kock century beat Australia
Cricket World Cup 2023: Rohit Sharma smashes six-hitting record as India beat Afghanistan
Virat Kohli: "It's a bit awkward for me in front of the pavilion named after me"
Cricket World Cup 2023 – Current table situation
Cricket World Cup 2023: New Zealand beat Afghanistan to keep perfect record
Cricket World Cup 2023: Another world record reached during India's match against New Zealand
ICC World Cup 2023: England seamer Reece Topley ruled out with a broken finger
The one-sided win sent South Africa second in the table with four wins and comfortably the best net run rate out of all ten teams in the tournament. At the same time, Bangladesh slip below England to the foot of the standings.
A 20th ODI hundred from De Kock and some brutal late hitting from Heinrich Klaasen and David Miller guided South Africa to their vast first-innings total of 382/5 at the Wankhede Stadium.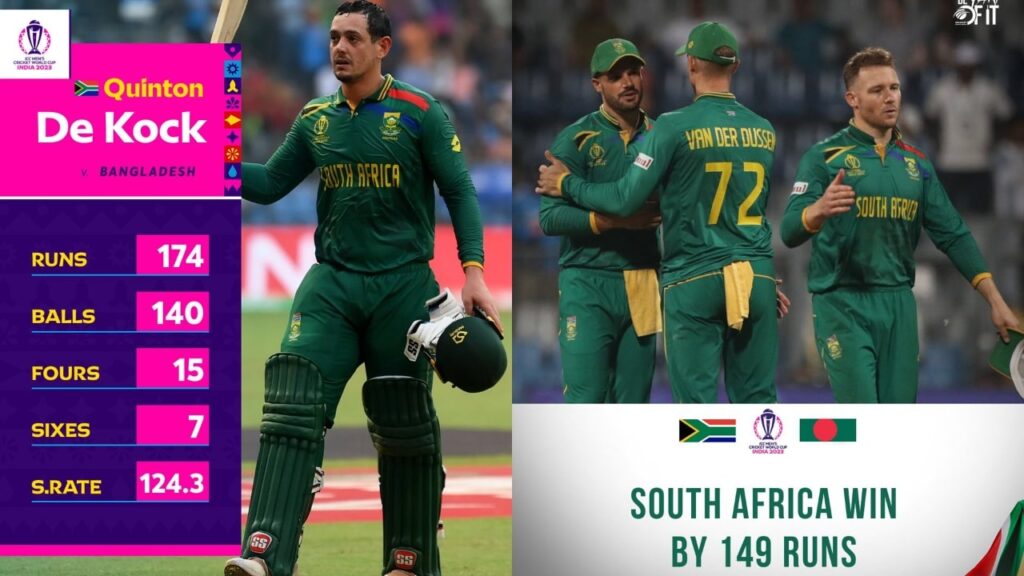 Biggest margin of victory in terms of runs
South Africa establishes the record, and the runner-up is far from equalizing.
South Africa registered the most significant win by runs with a massive 229-run victory over England – the most in the tournament so far.
New Zealand beat Afghanistan by the same margin earlier in the tournament and shared the second-highest win with South Africa when they beat Bangladesh with a 149-run successful over.
Bat first and win big
South Africa's thumping win against Bangladesh is their eighth ODI victory by more than 100 runs in 2023 and comes from 10 times they have batted first in their 18 matches.
That ties the all-time record for 100-plus run wins in a calendar year, set by Pakistan in 1999, but has come in 11 fewer matches.
South Africa have now also won nine of the 10 ODIs where they have batted first this year.
Bat first and bat big is South Africa's ideal game plan, and Tuesday's match in Mumbai marked the seventh time in consecutive ODIs that they have scored more than 300 when batting first to equal the record held by Australia (2007) and England (2019).
Highest Net Run Rate
South Africa's crushing wins over England and Bangladesh in Mumbai mean they have by far the best net run rate in the competition.
Their current net run rate of +2.370 after five matches is clear of the following best – New Zealand's +1.481.
De Kock blasts CWC best
Quinton de Kock's outstanding 174 is his highest-ever score at an ICC Men's Cricket World Cup and only four runs short of his best individual effort in an ODI.
Only Gary Kirsten has produced a more significant knock for South Africa at a Men's Cricket World Cup, hitting 188* against UAE in 1996
Klaasen's stunning strike rate
Heinrich Klaasen produced inarguably the best strike rate at the World Cup.
The big-hitting number five is the sixth-highest scorer at the tournament so far, and his 288 runs have come at an eye-watering rate of 150.78.
Of the front-line batters at the tournament, only Kusal Mendis (218 at 146.30) and Iftikhar Ahmed (101 at 140.27) come close to matching Klaasen's hitting prowess.
Brutal death-overs hitting
The blitz from De Kock, Klaasen, and David Miller saw South Africa score an extraordinary 144 runs in the final 10 overs against Bangladesh.
That tally is the highest score in the final 10 overs of an innings at the tournament so far, bettering the Proteas' effort against England by a single run.
De Kock – The record breaker
Quinton de Kock's three centuries have sent him to the top of the tournament's run-scoring charts ahead of Virat Kohli and Rohit Sharma.
Only two players have ever scored more centuries than three at a single ICC Men's Cricket World Cup – Kumar Sangakkara with four in 2015 and Rohit Sharma with five in 2019.
But there is more to expect from De Kock, as he could also become the highest individual scorer for South Africa at an ICC Men's Cricket World Cup. He currently trails Jacques Kallis' record of 485 in 2007 by just 78 runs, with four group stage matches and potentially the knockout stages remaining.
The highest-ever individual tally at a Men's Cricket World Cup stands at 673, scored by Sachin Tendulkar in 2003.